Upon
the completion of the fortnight Down Under, an interesting article caught my eye at
http://atpworldtour.com/
(for reference: "
For Great Court Coverage, Build Muscular Endurance
"). As a fitness fanatic and avid tennis player, I was immediately interested. The article posed Novak Djokovic as its poster-boy, and attributed his recent success to muscular endurance as the key factor in his defensively oriented game.
After finishing the article, I took it upon myself to do some research. What I gathered was a definitive classification of the different types of muscle training. Muscle training can be classified into three generally distinct groups:
Muscular Strength Training
Muscular Explosiveness Training
Muscular Endurance Training
Muscular endurance training is rare in tennis. It is designated by the ability of a muscle to repeat the same motion over and over for a long period of time. For a professional match, it can last for over five hours. The simplest form of muscular endurance is a completion of the unit turn and bend that is necessary before every forehand and backhand. A more advanced form of muscular endurance includes the capability to reproduce the same explosive bursts of energy to chase down balls and drop shots continuously throughout a long match.
On a general level, athletes tend to focus on muscular strength over other types of fitness. Usually, it is caused by ignorance or by trying to build a stronger foundation. Muscular explosiveness and muscular endurance training can only be effective after a athlete develops a strong base. Specifically for tennis players, muscular explosiveness training constitutes one of the most, if not the most important sector of tennis. At the professional level, however, the combination of the three forms of fitness tends to parallel success.
Most players focus solely on the muscular strength aspect of the game in an effort to keep up with the multitude of power on tour. But top players understand the importance of muscular strength training and muscular explosiveness training, and implement both into regular workouts.
Monfils returns a forehand against Nadal at the U.S. Open.
People often question what separates a top twenty player from a top five player. Top twenty players all have big weapons and promising talent. But the players who can go the distance while maintaining a high standard of play day in and day out are the champions that dominate the game. A great example of this was
Rafael Nadal's
2009 U.S. Open match against
Gael Monfils
of France. Both players are well-known for their incredible athleticism and are probably the most physically defined people on tour. After a set of extreme rallies and unprecedented movement, Gael Monfils took the first set in a tiebreak. Nadal may have run just as much as the Frenchmen, if not more, and still won the match.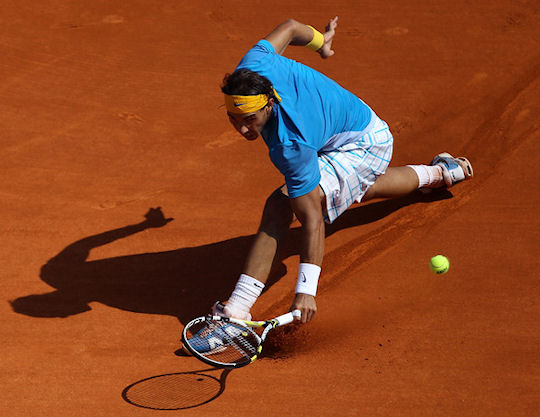 Rafael Nadal displaying his muscular endurance.
Monfils, however, was the one who physically broke down. The next three sets were a beat-down due to Monfils' inability to match Rafael Nadal's physicality. So why didn't Nadal's game drop as Monfils' did? The answer lies in muscular endurance training. Rafael Nadal was able to outlast his opposition because he has maxed out his muscular endurance. Top players like Roger Federer, Andy Murray, and Novak Djokovic all have the capability to play five sets through the seven rounds of a Grand Slam, and still become champions because of their muscular endurance.
You may be questioning how you can train your muscular endurance. You may already be training without knowing it! Exercising on the treadmill, elliptical, or stair-master are all perfect ways to increase your muscular endurance. If you want great results on the court, doing exercises such as lunges and squats are very helpful (any exercise in reality can be used). The important thing is doing high reps with smaller weights. Keeping your shoulders and core strong is also key to diminishing the number of injuries you get while playing. These high repetition workouts teach your muscles how to stay strong and last long on the court during those grueling matches!